Rectangle Cutting Edge Tablecloth, Featuring popular circle and square pattern with eco-friendly PVC material, this ColorBird pretty tablecloth will make your meal time more luxurious. Made of 100% polyester; Measures 60" Width x 60" Length (152 x 152 cm),size deviation is between 1 to 2 inch
Material:1.Pvc Tablecloth with non-woven backing

PVC thickness: 0.22mm / customized size
Tolerance: + / - 0.01mm
Non woven/Flannel backing: 30g/m2, 35g/m2, 40g/m2, 45g/m2,50g/m2,customized
Tolerance: + / - 5g/m2
Product Size Table
Market

Country

Asia

106 x 152 cm;120 x 152 cm;137 x 137 cm;137 x 183 cm;152 x 152 cm;152 x 228 cm

120 x 152 cm;137 x 137 cm;137 x 183 cm; 152 x 228 cm

78 x 130 cm;98 x 152 cm;106 x 152 cm;120 x 152 cm;137 x 137 cm;137 x 183 cm;152 x 152 cm;152 x 203 cm;152 x 228 cm;152 x 265 cm;152 x 310 cm

78 x 130 cm;98 x 152 cm;106 x 152 cm;110 x 140 cm; 120 x 152 cm;137 x 137 cm;137 x 183 cm;152 x 152 cm;152 x 203 cm;152 x 228 cm;152 x 265 cm;152 x 310 cm

100 x 140 cm;110 x 140 cm;140cm Rund; 130 x 160 cm;160 Rund

140x200cm; 140x240cm; 140x250cm; 140x300cm; 150x150cm; 150x240cm; 150x250cm; 150x300cm; 160cm round

140 x 220cm

120 x 160 cm; 120 x 190 cm; 120 x 220 cm; 160cm round; 160 x 210 cm

110 x 140cm; 140 x 160cm; 140 x 210cm; 160 x 260cm Oval

140 x 140cm; 140 x 180cm

130 x 178cm

150cm round; 145 x 220cm




52" x 52"; 52" x 70"; 60 x 84"; 60 x 102"; 60" x 120"; 60" round; 70" x 70"




140 x 140cm; 140 x 220cm; 160cm round




Africa

135 x 125cm; 135 x 150cm; 135 x 200cm



Quality Standard and Certification
| | | | |
| --- | --- | --- | --- |
| | Reference standard and regulation | | |
| | | | |
| | | | |
| | | | |
| | | | |
Workmanship and Packing Configuration for Option
C1

Simple cutting edge + care label + color card + PP bag + barcode label + carton (30 pieces)

C3

Simple cutting edge +care label + color card + PP bag + small hook + barcode label + carton (30 pieces)

C5

Simple cutting edge + care label + color card + PP bag + middle hook + barcode label + carton (30 pieces)

C7

Simple cutting edge + care label + color card + PP bag + large hook + barcode label + carton (30 pieces)

C9

Simple cutting edge + paper board stiffener + care label + color card + PVC bag + small hook + golden size label + carton (woven bag)

C+

Simple cutting edge + paper board stiffener + care label + color card + PVC bag + one-piece large hook + golden size label + carton (woven bag)
G1

Straight lock-stitched edge + care label + color card + PP bag + barcode label + carton (30 pieces)

G3

Straight lock-stitched edge +care label + color card + PP bag + small hook + barcode label + carton (30 pieces)

G5

Straight lock-stitched edge + care label + color card + PP bag + middle hook + barcode label + carton (30 pieces)

G7

Straight lock-stitched edge + care label + color card + PP bag + large hook + barcode label + carton (30 pieces)

G9

Straight lock-stitched edge + paper board stiffener + care label + color card + PVC bag + small hook + golden size label + carton (woven bag)

G+

Straight lock-stitched edge + paper board stiffener + care label + color card + PVC bag + one-piece large hook + golden size label + carton (woven bag)
K1

Wave lock-stitched edge + care label + color card + PP bag + barcode label + carton (30 pieces)

K3

Wave lock-stitched edge + care label + color card + PP bag + small hook + barcode label + carton (30 pieces)

K5

Wave lock-stitched edge + care label + color card + PP bag + middle hook + barcode label + carton (30 pieces)

K7

Wave lock-stitched edge + care label + color card + PP bag + large hook + barcode label + carton (30 pieces)

K9

Wave lock-stitched edge + paper board stiffener + care label + color card + PVC bag + small hook + golden size label + carton (woven bag)

K+

Wave lock-stitched edge + paper board stiffener + care label + color card + PVC bag + one-piece large hook + golden size label + carton (woven bag)
P
Series

P1

TC piping + care label + color card + PP bag + barcode label + carton (30 pieces)

P3

TC piping + care label + color card + PP bag + small hook + barcode label + carton (30 pieces)

P5

TC piping + care label + color card + PP bag + middle hook + barcode label + carton (30 pieces)

P7

TC piping + care label + color card + PP bag + large hook + barcode label + carton (30 pieces)

P9

TC piping + paper board stiffener + care label + color card + PVC bag + small hook + golden size label + carton (woven bag)

P+

TC piping + paper board stiffener + care label + color card + PVC bag + one-piece large hook + golden size label + carton (woven bag)
Q
Series

Q1

2″Pvc Lace edge + care label + color card + PP bag + barcode label + carton (30 pieces)

Q3

2″PVC Lace edge + care label + color card + PP bag + small hook + barcode label + carton (30 pieces)

Q5

2″PVC lace edge + care label + color card + PP bag + middle hook + barcode label + carton (30 pieces)

Q7

2″PVC lace edge + care label + color card + PP bag + large hook + barcode label + carton (30 pieces)

Q9

2″PVC lace edge + paper board stiffener + care label + color card + PVC bag + small hook + golden size label + carton (woven bag)

Q+

2″PVC lace edge + paper board stiffener + care label+ color card + PVC bag + one-piece large hook + golden size label + carton (woven bag)
X
Series

X1

3″PVC lace edge + care label + color card + PP bag + barcode label + carton (30 pieces)

X3

3″PVC lace edge + care label + color card + PP bag + small hook + barcode label + carton (30 pieces)

X5

3″PVC lace edge + care label + color card + PP bag + middle hook + barcode label + carton (30 pieces)

X7

3″PVC lace edge + care label + color card + PP bag + large hook + barcode label + carton (30 pieces)

X9

3″PVC lace edge + paper board stiffener + care label + color card + PVC bag + small hook + golden size label + carton (woven bag)

X+

3″PVC lace edge + paper board stiffener + care label + color card + PVC bag + one-piece large hook + golden size label + carton (woven bag)
T
Series

T1

Fringed edge + care label + color card + PP bag + barcode label + carton (30 pieces)

T3

Fringed edge + care label + color card + PP bag + small hook + barcode label + carton (30 pieces)

T5

Fringed edge + care label + color card + PP bag + middle hook + barcode label + carton (30 pieces)

T7

Fringed edge + care label + color card + PP bag + large hook + barcode label + carton (30 pieces)

T9

Fringed edge + paper board stiffener + care label + color card + PVC bag + small hook + golden size label + carton (woven bag)

T+

Fringed edge + paper board stiffener + care label + color card + PVC bag + one-piece large hook + golden size label + carton (woven bag)
Definition and Illustration
Simple Cutting

Edge

it means that the fabrics are simply cut into the ordered size without any additional edge beautifying treatment, which is the most economical process.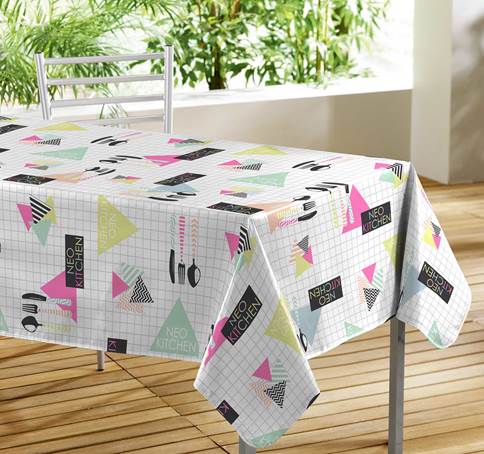 Looking for ideal Rectangle Cutting Edge
Table Covers
Manufacturer & supplier ? We have a wide selection at great prices to help you get creative. All the Round Cutting Edge Table Covers are quality guaranteed. We are China Origin Factory of Oval Cutting Edge Table Covers. If you have any question, please feel free to contact us.
Product Categories : Readymade Tablecloth > Cut And Fold Tablecloth